In this blog, I will explain what things you need to know before buying a TV Mirror for your Bathroom!
I believe that this blog can provide all the necessary information for you.
This blog will conclude with the following topics:
Introduction of TV Mirror for Bathroom
First things first, what on earth is a TV mirror for Bathroom?
A TV mirror or mirror TV is a reflective surface that can be used to watch television. It is often made of highly polished metal or glass. It can be used to watch any type of television programming. Its main feature is to connect your phone via Bluetooth or Wi-Fi.
Put Simply,
It is a mirror with a built-in tablet. Here is an image which can be clearly told you the TV screen of the mirror is not as big as you think. Tablet sizes can range from 10 sq inch to 86 sq inch.
Should I Get a TV Mirror for Bathroom?
The bathroom for bathing and showering becomes another clean slate for people to relax. If you have it installed in your bathroom, try asking it: Mirror Mirror, tell a joke; Mirror Mirror, how's the weather today?
The more time people spend in the shower, the more boring this time seems, and the TV mirror can give you relief.
It provides entertainment and up-to-date information such as news, music, movies, TV, soccer, etc. It is a comprehensive and diverse way to enjoy bathing and entertainment.
TV Mirror's intelligent system can monitor the temperature and humidity in the bathroom, as well as provide you with information on the weather and road conditions to remind you to prepare for your trip.
Pros and Cons of TV mirrors
There are both advantages and disadvantages to using a TV mirror.
Advantages of TV mirrors:
Watch TV anywhere, anytime
It allows you to watch television in any room of your house. When you walk into the bathroom, the mirror inside the bathroom can play the program you just watched in the living room. All TVs in the house, including the mirror TV, can be set to the same channel and switched at the same time.
Receive a wealth of information to help you prepare for your day
With the Mirror TV feature, you can typically get detailed information such as daily news, the date and time, weather forecasts, and traffic reports. Get all the information you need before you leave home.
Aesthetic function
The TV mirror can be used to create a unique and stylish look in your home or bathroom.
TV Mirrors exist to make your home design more diverse, with endless possibilities, no longer influenced by the TV screen or multimedia screen.
You don't have to think about leaving a wall for your TV and designing a whole TV wall in order to put it there.
Or in a small space, you have to dig out the TV in the middle of your storage cabinet.
Even the placement of your living room vase has to go to match the style and size of the TV.
A TV mirror it can be either a whole mirror or just a cabinet door!
Once the TV is turned off, the TV screen is exactly the same as the mirror, blending itself into the design of the house.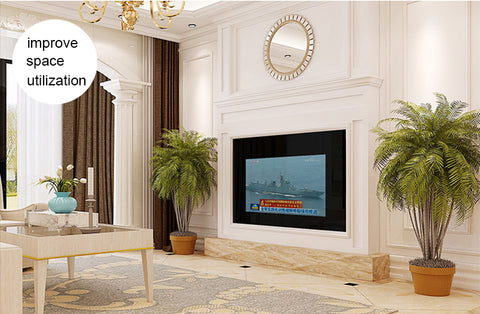 picture source: MOCOSE
Disadvantages of TV mirrors:  
We're not going to sugarcoat it.
More expensive
A TV mirror is more expensive than a traditional TV or a traditional mirror. (It's two in one!)
The angle is fixed
After installation they are fixed at an angle.
However, traditional TVs allow you to manually adjust the angle of the TV for optimal viewing.
Viewing quality is not as good as premium TVs
LCD TVs have been updated for decades and have long been perfected to give customers the ultimate experience.
Is the image quality as good as an LCD TV after mirror filtering?
In contrast, currently, no matter how advanced the mirror is, it cannot compete with the best TV display.
The factors that have the greatest impact on the visual performance of a TV mirror have to do with two different aspects of light: reflection and transmission.
As with regular TVs, the main goal of a mirror TV is to obtain the clearest image (best transmission) and to minimize light reflection when the TV screen is turned on.
Therefore, the quality and material of the glass becomes a key breaking point for mirror TVs, as it is essential to obtain a satisfying TV viewing experience.
The perfect enjoyment of the TV image is influenced by the brightness of the room, as the mirror itself has the characteristic of providing you with a perfect reflection.
So any external light source will affect the visual effect of the screen.
A bright space with plenty of natural light, a high ceiling or a large window makes the mirror produce more reflections and makes TV viewing less clear.
So, in conventional opinion, the ideal room for using a TV mirror should be as much as a dimly lit space similar to a small movie theater.
However, we have now improved the mirror reflection technology so that you can enjoy watching the TV screen perfectly in a well-lit room.
The surface of this mirror will be covered by a film which makes it looks a little bit darker than a traditional mirror and makes it easier to reflect the TV shows. And the screen of the TV installed behind this film still uses the advanced LCD monitor.
This type of glass is perfect for watching your favorite team's soccer game on a sunny day, allowing you to open the window and let in more light without compromising the quality of your vision.
Although this still doesn't rival a perfect LCD TV, nor does it give you the maximum amount of true reflection like a traditional mirror.
But relax, the TV mirror is clear enough to go for your makeup or shaving.
That's the main disadvantage of the TV mirror, which the merchant will never tell you.
For your Go Go Gadget guys here's an extra list of TV mirror features for you!
There are some functions that can be added to a TV mirror. Just check out our store and you will find all the features below.
Defogger
LED digital clock
Magnifier mirror
Motion sensor switch
Touch sensor
Night light
Led dimming
Different Color temperature
Waterproof
Bluetooth speaker
Shaver socket
USB charger
Simply put, a TV mirror is a computer inside a mirror.
Think Big!
With the right software, you can make your mirror into your smart home control hub.
AC control? Check
Lighting? YEP!
Curtains? Sure why not
Washing machine, sweeper, etc. No problem!
How to Choose a Suitable TV Mirror for Bathroom?
Smart bathroom mirrors are on the rise in popularity but if you're thinking of buying one for your house there are a few things to keep in mind when choosing the TV mirror that fits you.
Size
TV mirrors come in a variety of sizes, so be sure to choose one that will fit comfortably in your space. You need to consider not only the mirror size but also the TV size and where on earth you will put it.
TV mirrors are usually square. If you are willing to spend a custom budget, then a variety of shapes can be made into TV mirrors. Round, oval, square, rectangle, etc.
Lighting
As I have mentioned above, there are so many types of lighted mirrors you can choose. For example, internal light-emitting, external light-emitting, whether with the outer frame, the strip is fully surrounded or semi-encircled, cold light or warm light, etc.
Option 1
Rectangular Internal lighted bathroom mirror
Option 2
Round frameless LED bathroom mirror
Option 3
Oval internal LED bathroom mirror
For me personally, I just love the led mirror with internal light-emitting full surround and three color temperature adjustable.
Type
There are two types of surfaces - those that use an LCD screen and those that use a mirror. If you're looking for the most realistic experience, go with a mirror TV.
However, if you want something that's more budget-friendly, an LCD TV mirror is a great option.
Features
TV mirrors come with a variety of features, so be sure to choose one that meets your needs. For example, some TV mirrors come with built-in Bluetooth speakers, while others have USB ports for connecting devices.
Bluetooth link
You can listen to music and answer phone calls with your phone connected to Bluetooth. Listening to songs while bathing is definitely a great pleasure. And you can also answer the phone when bathing, no longer have to worry about unexpected situations.
Defogger
The anti-fog function is a MUST to be ticked. In this way, you don't have to wipe the mirror after each shower. Otherwise, sometimes you can't wipe it clean by hand and you have to wipe it with paper. That's awful!
With these things in mind, you're sure to find the perfect TV mirror for your home.
Where Can I Put a TV Mirror Instead of the Bathroom?
The kitchen is an ideal location to install a TV mirror.
First, it can be installed as a mirror door on the cabinet.
Secondly, this amazing mirror can also be installed on the wall of the cooking preparation area. When you are cooking in the kitchen, you can watch the show at the same time. When you need a cooking tutorial, you can also watch the tutorial video while learning to cook.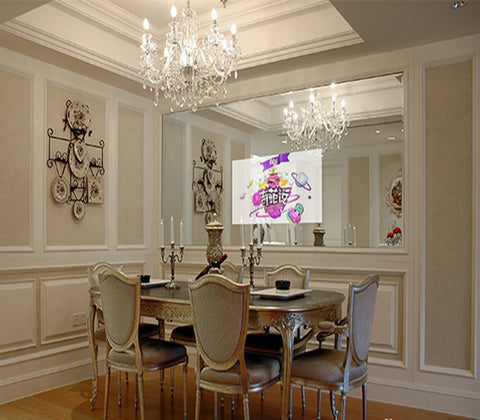 Many homes have a kitchen that is next to the dining area, so if you choose to put a TV mirror on this wall, you can let the whole family enjoy it together.
When the TV is turned off, this mirror mounted on the kitchen wall can also add light to the kitchen and make it appear more spacious.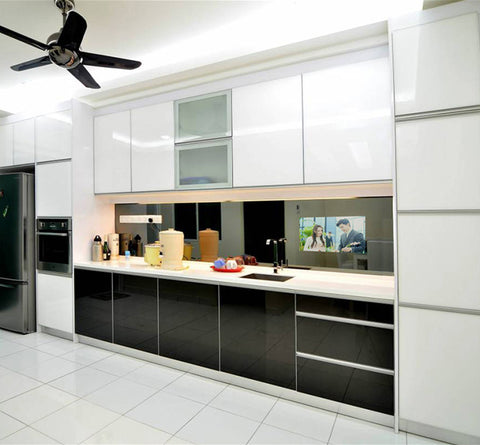 picture source: MOCOSE
The TV mirror is suitable for modern design living room.
Nowadays, many young people have less and less need for a TV in their living rooms. Their living room design tends to be simple and bright.
Do you feel that the use of TV is getting less and less, but the living room seems to be missing something if you don't put TV, and if you put TV, then it is not very meaningful, and even affects the overall decoration.
Is there a way to hide it away? And you can still enjoy a soccer game together when your friends come over.
This is when you might think of a projection screen. Projection screens are big enough and are great for multiple viewers. But there are some disadvantages to projection screens, such as having to install a screen on the ceiling opposite the sofa, linking and playing is more troublesome, and so on.
Now, you have one more option --- installing a TV mirror.
A TV mirror adds brightness to the room when closed and enhances the presence of furniture and adds endless imagination to furniture placement. TV mirrors also allow you to save space in your living room.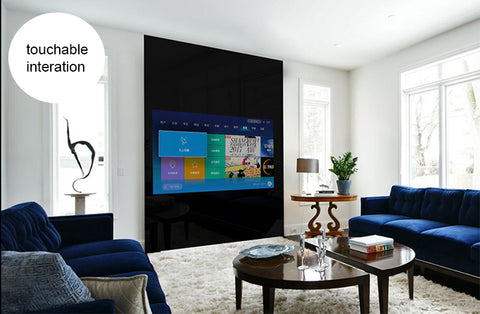 picture source: MOCOSE
Your gym needs a magic mirror.
Many TV mirrors designed specifically for fitness are becoming wildly popular. It has all the features designed specifically for fitness in the home.
Inside the mirror contains a number of exercise classes, and you can use voice control to select classes, completely freeing your hands.
When you are watching the course, you can also adjust your exercise status according to the reflection of the mirror in time to maximize the effectiveness and efficiency of exercise.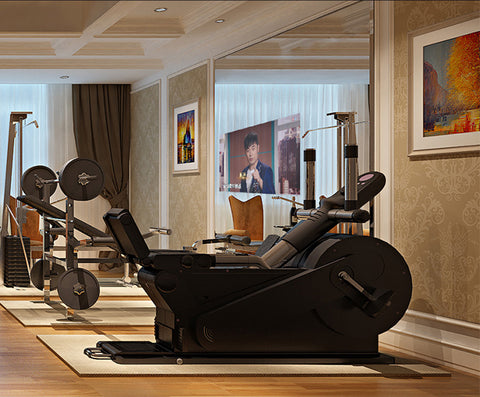 picture source: Kusel
How does a Phone Connect to the Smart Mirror?
Some people may ask how can I connect my phone to the smart mirror?
You can connect with wireless Bluetooth, almost all TV mirrors have Bluetooth capability. You can also connect with a USB cable, some mirrors will come with a waterproof USB port. But you'd better check.
Other things you must consider before pressing the BUY button
Remember to reserve the nightlight cable and power cable
The smart mirror needs to be powered on to use. Sadly It's not that smart to generate its own electricity. Set aside the power cord on the back of the mirror, never set on the ceiling or elsewhere. So that you can hide the wiring to the back of the mirror, will not show a cut wire outside.
Remember to check the safety performance
Waterproof function is crucial for TV mirrors, be sure to check whether the waterproof function meets safety standards. Some poor-quality products ignore the sealing, resulting in leakage situations that threaten your safety.
See this guide to what is and isn't considered waterproof
Check whether the merchant solves the installation problem
If the installation is not included, is it easy to install by yourself? Does the merchant provide installation instructions?
See our installation guides right here.
Ask about packaging materials
After all, a custom TV mirror has already taken weeks, and if there's another problem with shipping, it's going to be another 1 to 2 weeks of waiting. No one wants that to happen, right?
So before you choose a merchant, please be clear about the following issues:
Does the package of the product stand up to the test of long-distance transportation?
If the mirror is found to be broken after receiving the goods, does the merchant undertake the double shipping costs?
Significance of the TV mirror for Bathroom
Nowadays, smart systems are not just applied to mobile phones and tablets. More and more intelligent products related to life are emerging, like smart TVs, smart watches, and now smart mirrors. 
This is the embodiment of people-oriented science and technology. 
Only by integrating science and technology into life can it have real significance.
Conclusions
For now, do you get everything clear before buying a TV mirror?
If don't, please feel free to leave your comments.
Recent blogs
Quick Guide to Buy a Bathroom Mirror with Backlighting
Are You Looking for a Medicine Cabinet with Mirror for Modern House?
Why Need a Modern Double Door Medicine Cabinet for YOUR Bathroom