Introduction
To meet the daily washing requirements of residential life and the need to store various toiletries, many American homeowners will purchase a bathroom mirror cabinet in their bathroom.
Yep, I am talking about medicine cabinets with mirrors.
So next you will be introduced to a modern double door medicine cabinet with a lighted mirror.  After reading this introduction, you will know whether you should install a double door medicine cabinet for your bathroom and what kind of modern double door medicine cabinet to install.
This blog will conclude with the following topics:
A Modern Double Door Medicine Cabinet Can Perfectly Match Your Modern Decoration
If your bathroom decoration style is a simple modern style, then certainly the first choice is the modern style mirror. But the simple mirror does not meet the function of storage, so you have to consider this kind of mirror with a storage cabinet.
It has a very simple and comfortable appearance, with no complicated decoration.
Perfect for the stylish you!
 36''W*24''H*5.98''D
Modern Double Door Lighted Medicine Cabinet
Most modern double door medicine cabinets are designed without frames so that there are no dead ends when cleaning. It's a great time saver!
Do you think the bathroom has not enough light during the daytime if you don't turn on the lights? Then a storage cabinet with mirrors can reflect light and add brightness to this space. And then when you turn on the light, it will seem more light.
It's friendly for making up!
Two in One
What if you don't have enough storage space in your bathroom and have too many cosmetics, medications, toiletries, toothpaste, toothbrushes, etc. without a place to put them?
Most homes with modern American decor will choose a modern double door medicine cabinet instead of just a traditional mirror. It contains two functions! How cost-effective! You can save money on a mirror by buying it.
It can also hide clutter and give a clean and tidy feeling.
Perfect for young people living in a fast-paced world and sophisticated America.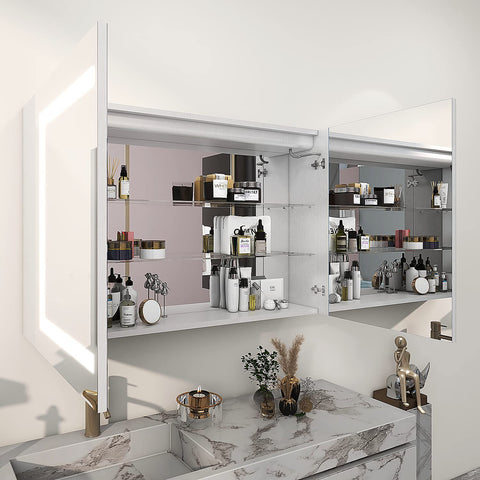 What is the Mystery Inside the Modern Double Door Medicine Cabinet?
You might be wondering:
This is just a medicine cabinet, pick any one of it!
Here is something you may not know about the modern double door lighted medicine cabinet inside:
First of all, storage-friendly
From the interior width of the cabinet, it is narrow, but after adding the shelves you can put a lot of things. But usually, you have items of different heights. In case you bought them back and realized that you can't put your electric toothbrush in them, it's a very distressing problem.
Can you accept to put your toothbrush horizontally? I can't!
That's why it's important to have a height-adjustable divider! You can adjust the height according to the needs of your items.
Second, built-in shaver socket
Many American homes require a charging outlet in the bathroom, and sometimes one may not be enough. Because the hairdryer needs electricity, the electric razor, toothbrush, etc. also. So a waterproof outlet can be added inside the lighted medicine cabinet to make charging more convenient.
Imagine, when your razor or toothbrush is out of power, you can put it directly inside the mirror to charge. Put them on the sink to charge, will be easy to contact with moisture to cause leakage, and getting to the room to charge makes you tiresome.

Now, you just close the mirror, then let them charge waterproof and fog-proof inside to not leak electricity. Isn't it very convenient and safe?
How to Make it Look COOLER
--You can also add some interesting designs to the cabinet.
What if you want to turn on the light when your hands are dirty or stained with foam? Don't worry, just hold your hand close to the sensor and move your hand over, the light will be turned on. There is no need to wash your hands before pressing the button to turn on the light. Then another tiny movement can make the light turn off.

That's super cool!
Magnifying mirror with a circle of light
Adding a magnifying mirror to the surface of the modern double door medicine cabinet helps you see the details of your face. It is more convenient to put on makeup and do face cleaning. There is a circle of light around the edge of the magnifying mirror to see more realistically and clearly.

Magnifying makeup mirrors are a very common necessity inside American homes. Now, they can all be achieved on ONE flat surface. Everything is to be more convenient.
Built-in light-emitting strip
You can add a light-emitting strip inside the cabinet, or a hidden acrylic light slot. But generally no need. Because, if there is not enough light, when you enter the bathroom, you will turn on the bathroom light. Adding a strip of light is superfluous. However, this will look cooler.

It's up to you!
More Things You Must Consider Before Buying a Modern Double Door Medicine Cabinet
The bathroom mirror cabinet is hung on the wall; its load-bearing is required to have a certain amount of weight. Generally, manufacturers have to explain how much the load-bearing is.
Secondly, you should also pay attention to the quality of hinges' load-bearing.
Generally, the width of a single cabinet door should be less than 24''. To make the cabinet door more secure and longer life, I recommend the mirror cabinet with double doors.
The surface of the modern double door medicine cabinet must be waterproof and rustproof without debris, smooth to the touch, and feel good. Modern models of mirror cabinets usually use aluminum alloy or stainless steel for wrapping. High-quality materials can prevent the surface of the cabinet from rusting or blistering. The cabinet door must be able to close flat so that the items inside the cabinet can stay dry.
The average size of a typical lighted medicine cabinet is approximately 16 inches wide by 20 inches tall. However, lighted medicine cabinets come in all sorts of different sizes, so be sure to measure the space you have available before making your purchase. If you have a particularly small bathroom, there are lighted medicine cabinets available that are much smaller in size. There are also lighted medicine cabinets that are larger if you have the extra space to spare.
No matter what size lighted medicine cabinet you choose, be sure to measure your sink and vanity carefully to ensure it will fit properly.
By the way, you need to consider the space for the door to open.
How do I determine the height of my cabinet?
Generally, the top of the cabinet should be about 72 inches off the floor; choose your height and adjust it to your needs so that you can see at least your face and shoulders. Of course, the height of other people using this cabinet should also be taken into account. The bottom of the lighted medicine cabinet should be reserved for a tap.
Remember to first consider the location of the top, using the top as a baseline for installation and sizing, followed by the location of the bottom. This is because generally lighted medicine cabinets are not designed to be so large as to block the tap. Make sure the mirror can reach your face and shoulders.
How to Maintain the Modern Double Door Medicine Cabinet?
You may often place some cleaning supplies in the cabinet. So the flowing detergent is best to be cleaned up immediately, so as not to have a chemical effect on the paint, resulting in corrosion.
You should keep the cabinet body dry, prolong the service life, avoid dripping water, such as water drops should be wiped dry with a cloth. Prevent collision with hard objects, scratches.
Do not put too cold or too hot products, organic solutions directly on the surface of the furniture, and do not install sharp and bottom rough items directly on it.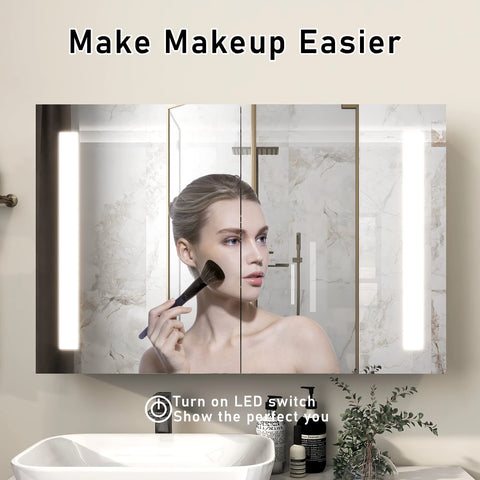 24 inch lighted medicine cabinet
 36''W*24''H*5.98''D
Conclusion
After reading this introduction, do you think the modern double door medicine cabinet is suitable for you? What size cabinet do you want? Please go to my home page to see more related bathroom mirror products.
What else would you like to know about? Tell me in the comment section!