MIRPLUS 24''×32'' Oval Lighted Bathroom Mirror Anti-fog Dimmable Mirror
$21900

$219.00

FREE SHIPPING
---
adjustable color temperature

About this item
This mirror is both stylish and functional. With its oval design, it can be used in any room of your house for multiple purposes from making sure you look good enough before leaving the house all day long (especially if there's no natural light) to assisting during nighttime beauty routine sessions by illuminating skin imperfections so they're easier targets! Plus we couldn't forget about how gorgeous this thing looks.
---
Product Description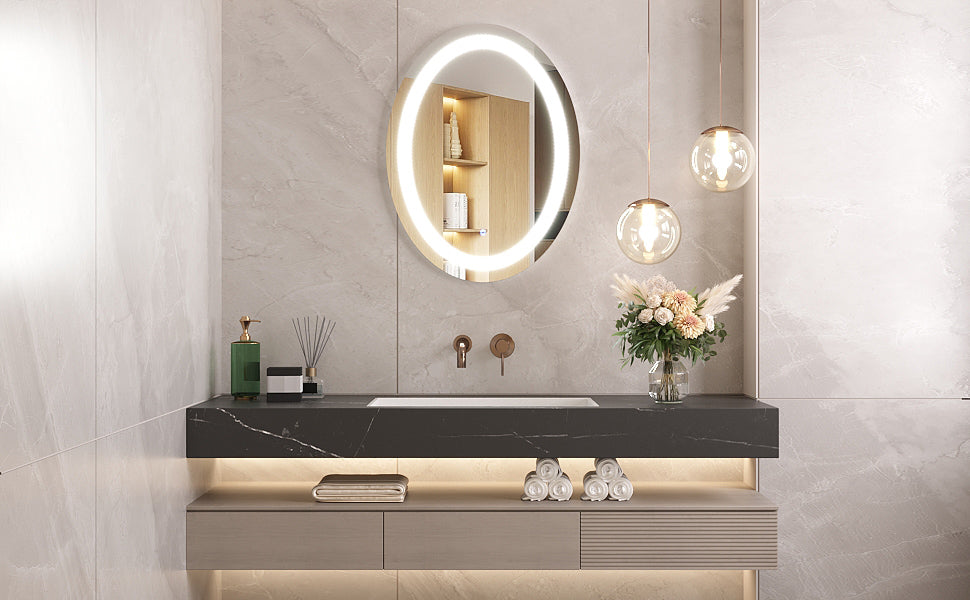 Why choose MIRPLUS
MIRPLUS is committed to creating a more comfortable home life for you

Enjoy high-end hotel quality bathroom products at the most affordable price

MIRPLUS has a variety of bathroom products, which sell well all over the world
Details
| | |
| --- | --- |
| Adjustable brightness & color temp | Long press the ON/OFF button to adjust the color temperature until it is fit for you. The color temperature can be randomly adjusted from warm yellow 3000k- cool white 6000k, perfectly practical for tasks such as shaving or applying makeup. |
| | The power button of this lighted mirror has a memory function. Its light will remain the same as when it was turned off last time. Make every makeup or shave more convenient. |
| | The moment you turn on the mirror, the defogger is on automatically, with no need to clean, rinse, etc., giving you the perfect fog-free experience ever. |
| | Our shatter-resistant design enhances the SAFETY of mirrors, without splashing debris, much safer than regular glass mirrors. |
| | 5mm copper-free environmental silver mirror, white-painted iron chassis, and hanger can resist scratch, moisture, and corrosion.  MIRPLUS mirrors last longer than standard mirrors. |
| Plug or Hardwire installation | The upgraded way of power connection offers you a plug-in or a hardwire connection. |
| | effectively prevents fogging and water droplets; designed with silicone strips to strengthen the seal; our mirror also comes with an electrical box to provide double resistance to moisture in a humid environment.  |
| | Newly improved packaging protects both the mirror corners as well as the front and backside of the mirror much better.  |
| | Accessories like positioning cardboard, spanner, installation instruction, and wall-mounted bracket on the back of the mirror make it convenient for you to locate and install within 15 minutes. |
---
Our advantages
Smart touch switch & Frame structure

A single switch controls all functions like memory function, dimmable function and fast defogging function. Durable Copper-free silver mirror.

 

Mirplus mirror

 

glass is protected by the surrounding frame structure and explosion-proof technology.

Fast defogging function

Ideal for bathroom and humid environment. The built-in

 

defogger

 

is activated when the mirror lights on, never worry about the mist or water drops blurring the surface of the mirror.

LED light strip

LED energy-saving& waterproof flexible light strip. Waterproof light strip to ensure

 

safe lighting

 

in wet bathroom environments, the LED lights are highly energy-efficient lifetime approx 50000 hours

PLUG-IN / HARD-WIRED

PLUG-IN and HARD-WIRED are both

 

supported. Mirplus mirrors can be hardwired to a switch on the wall. Ideal for bathrooms, but can be used effectively in any living space.
---
Information
| | | | |
| --- | --- | --- | --- |
| Overall | 24" W×32" H | Frame thickness | 1.8" |
| Color Temp | 3000K-6000K | IP Rating | IP44 |
| Lumen | 1600LM | CRI | >80 |
| Average Lifespan | 50,000 hours | Product weight | 17.7lb |
Reviews